On August 27, 2000, WWE debuted a gimmick match that became one of the most popular and carnage-inducing bouts of the modern era—but the origins of the Tables, Ladders, and Chairs match date back further than the inaugural brawl.
ADVERTISEMENT
To find the origins of the TLC match, we have to go back to the end of the last century, when WWE's Attitude Era was approaching the peak of its popularity. This was a time when WWE did not wholly dominate the wrestling landscape, with professional wrestling revolving around the Monday Night War between Vince McMahon's company and World Championship Wrestling.
With both companies doing all they could to push the boundaries in order to capture fans' imaginations, it was perhaps no surprise that WWE changed the landscape of tag team wrestling forever at No Mercy in October 1999. If there was one thing WWE always did better than WCW, it was tag team wrestling. Arguably the most underrated cornerstone of WWE's success throughout that period, it was at No Mercy when The Hardy Boyz and Edge and Christian produced one of the greatest ladder matches in history.
With all four participants producing some incredible death-defying stunts involving ladders, it came as no surprise that the audience collectively rose to applaud the performers post-match. What's easily forgotten amid what would follow is that the prize that night was not the tag titles but the managerial services of Terri Runnels. However, she would have much less of an involvement in what happened next.
Suddenly, Edge, Christian, Matt Hardy, and Jeff Hardy were in the forefront of WWE audiences' interests. The following night on Raw, they would lay out their respect for one another—but as The Hardy Boyz moved forwards, they did so with a team who would play a defining role in the first TLC match. With ladders checked off, Matt and Jeff faced The Dudley Boyz in a tables match. Again, the bout received critical acclaim. With hardcore wrestling very much a thing at that time too, it made sense for WWE to try to maintain the interest in the tag division by pitting all three teams in an electrifying match at WrestleMania 2000 when they competed for the tag titles in a Triangle ladder match.
As the tag division continued to soar in popularity in the months following that contest and with summer approaching, WWE took the bold step of unifying all three teams again. But this time, the stakes were much higher. This was when WWE officially gave birth to the Tables, Ladders and Chairs concept. Edge and Christian were the "chair men" of WWE, using chairs whenever they could. The Hardy Boyz loved diving off ladders. The Dudley Boyz, as we know, were infamous for their use of tables. It made sense when Commissioner Mick Foley threw them all together.
Running almost 15 minutes in length, the company basically broke off all the rules to allow Edge and Christian, The Dudley Boyz and The Hardy Boyz to put their bodies on the line in the name of entertainment. They delivered.
The Tables, Ladders and Chairs match has been a staple of WWE programming since its inception in 2000, spawning some of the best matches of the two decades that followed. Edge, Christian, The Dudley Boyz, and The Hardy Boyz set the bar incredibly high, and Superstars across generations have spent years trying to raise it. Some have exceeded expectations, while others disappointed. Through it all, the gimmick has provided fans with unforgettable spots, unfathomable feats of athleticism and unbridled violence. It is arguably the best type of wrestling match there is, and today, I'll be explaining why.
Carnage, carnage everywhere.
Chaos, destruction, reckless abandon. Is there nothing else that stimulates the testosterone like this? TLC matches are probably the most dangerous type of match, but it makes for great viewing. There's no limit to the type of spots you'd see in these matches, and there's always room for more.
Humans enjoy violence and you could say that this is WWE's Mecca when it comes to violence. You can always expect a few tables breaking, and in some cases, ladders even. There will always be a litany of high-risk spots too.
There's also no barrier to the styles you'll see in these matches. TLC matches are suitable for wrestlers with just about any style. A high flyer like Jeff Hardy can create chaos with his death-defying stunts off the ladder. Hardcore wrestlers can utilise the tables to brutal effects, and technical wrestlers can find ways to apply submissions using the chair.
Limited wrestlers are protected.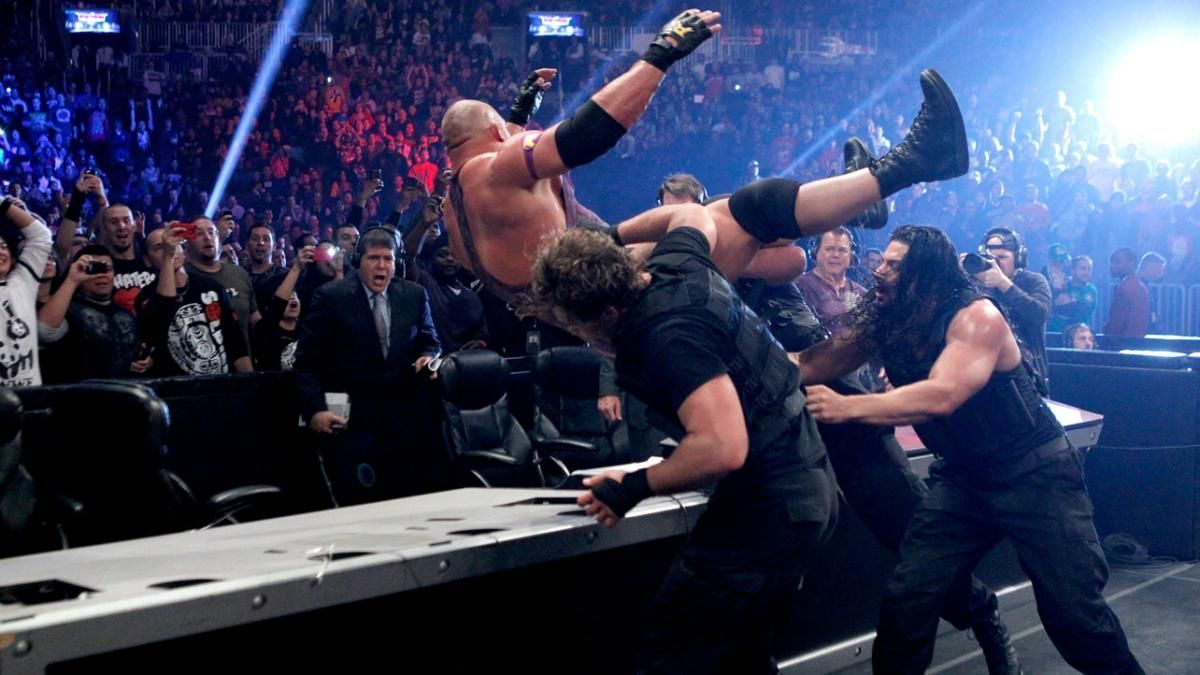 When it comes to putting on instant classics in regular matches, only a select few can pull these off. You won't see someone like Kane or Ryback or The Dudleyz even in a 5-star match. However, when it comes to TLC matches, anyone can excel in it. You don't need talent to hit another person with a chair. And as I alluded to in my previous point, there is no barrier to the styles you'll see. TLC will suit just about anyone.
A good example of this is in a TLC match that took place in 2012. It was The Shield's debut match and they came up against Daniel Bryan, Kane and Ryback. Kane, at this point, was slow and far away from his prime. Ryback, on the other hand, was as green as grass. Yet, these two were important pieces in what was an absolutely unforgettable match. Their flaws were easily masked.
It had been a long time since WWE had presented a TLC match on par with the original classics by the time 2012 rolled around. That December, The Shield made its in-ring debut and changed that immediately. Seth Rollins, Dean Ambrose, and Roman Reigns battled Ryback and Team Hell No in a match booked at the last minute following a serious knee injury to then-WWE champion CM Punk.
The six Superstars proceeded to deliver a show-stealing match that saw The Hounds of Justice systematically pick apart their opponents.  Kane was wiped out at ringside and buried underneath a pile of chairs. Ryback was put through a table near the entrance. That left the smaller Daniel Bryan to fend for himself, and while he did so admirably, he was no match for a united Shield.
The heels picked up the win in a hard-hitting, high-impact match that was rooted in storytelling more than high spots. Rollins did bump, though, taking a scary fall through a table at the hands of Ryback. But he was still able to celebrate the win with his teammates. The contest was a reminder of the magic that can be created when a storyline and athleticism come together and a fine introduction to three Superstars who would dominate WWE in the five years to come.
There are plenty of other wrestlers who have been helped by this type of match. The TLC is definitely one way to endear limited wrestlers to the fans.
Boring feuds are reignited.
WWE is very hit and miss, but they're definitely more consistent with their misses. More often than not, dream feuds are bastardised and made to be boring. Feuds are drawn out and milked dry. However, the TLC is one way to inject life into feuds that are on life support.
A good example of this is the God-awful Dean Ambrose-Bray Wyatt feud that took place in 2014. It was a feud that was directionless and just made zero sense. However, the Tables, Ladders and Chairs match shook things up for this feud.
Less than three years after this clash, it seems unfathomable that Bray Wyatt was merely ever in a good match, let alone a memorable one, but his TLC 2014 feud decider with Dean Ambrose afforded him a rare blowoff victory in impassioned fashion. Their rivalry had plotted a course tragically similar to how most of Bray's conflicts would progress in the future, with spooky bullshit such as a diversionary hologram distracting Ambrose in a match against Seth Rollins lingering longer than any of their actual battles.
The moments of brutality came from the unhinged Ambrose's willingness to embrace his inner darkness to unleash outer agony. Decimating Wyatt with a kendo stick, he then hit an elbow drop with a steel chair, but an effort to finish the 'Eater Of Worlds' off for good saw him launched through a table on the arena floor.
Wyatt followed up with similarly gruesome attacks with the weapons at his disposal, but Ambrose looked in firm control until a piss-poor finish saw him undone by a rouge TV monitor. Attempting to swing the device at Wyatt's head, the wire disconnected with an inexplicably fiery explosion. As audience brain cells fried alongside his own, Dean was left prone to a match-winning Sister Abigail.
It's a guaranteed classic.
Like I mentioned earlier, with WWE, it's very hit or miss, but it's often a miss. There's a reason there's a large number of hardcore fans who've switched to other promotions. Because the quality of matches in WWE is deteriorating, However, when it comes to TLC matches, there's no such thing as a bad match.
The one many fans will want to avoid too much of a detailed reference to is the WeeLC bout between El Torito and Hornswoggle at Extreme Rules. It is fitting that it is the shortest TLC match in history, a little over 10 minutes in length. It is comfortably the worst. But of the previous TLC matches, that is the only blemish on its storied history. In almost 20 years of trying, WWE has rarely held a bad contest when one of the company's most feverous stipulations is thrown into the mix.
When one looks over the history of a particular type of WWE match, you can see a clear difference between the first and most recent contests in its history in terms of skill, entertainment, and hype. Such is the carnage Tables, Ladders and Chairs provides, this is one of those rare occasions when the inaugural bout stands up neatly to the rest. Long may that continue.
Final thoughts.
It's a staple in WWE's history. It's one of the few constants they have going for them. There have been 20 Tables, Ladders and Chairs matches and almost all of them have been absolute classics. It's a stipulation so iconic that it has even evolved into its own pay-per-view. A stipulation that has provided some of WWE's most iconic moments is beloved by fans and has gone as far as to actually help create future Hall of Fame talent with its originators (who of course feature in this list).
Whether there is a title on the line or it is simply being used as a stipulation to cause carnage and settle feuds, TLC matches have produced some truly unique and innovative moments. If you haven't seen these classic bouts, head to the WWE Network and treat yourselves as they are not to be missed.
Hey you! Yes you, hot stuff. Like my article? Leave a comment below and let me know what you think. Also, don't forget to share it with your buds. And if you'd like to talk wrestling with me, you can hit me up here: @jasonholic95