The first trailer for Captain Marvel is finally here – after a long, long wait – and it seems as if the studio's now kicking the marketing machine into high gear. After all, alongside our first look at Brie Larson's heroine in action, we also got an awesome poster that tells us the movie will go "higher, further, faster" than any other MCU film to date, while a new plot synopsis appeared online earlier today, too, teasing a galactic war that's set to arrive on Earth.
ADVERTISEMENT
But what does everyone think of Carol Danvers' big screen debut so far? Well, the internet certainly seems to love it and now, fellow Marvel hero Captain America has shared his thoughts on the trailer. Yes, Chris Evans has taken to Twitter to react to the first Captain Marvel preview, posting a short but effective message and showing his love for Ms. Danvers.
Check it out below: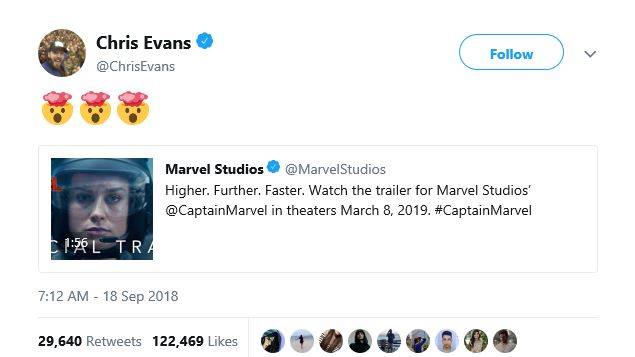 Thor: Ragnarok actress Tessa Thompson, as well as Kevin Smith, reacted too. Plus, there's a reaction from Captain Marvel herself.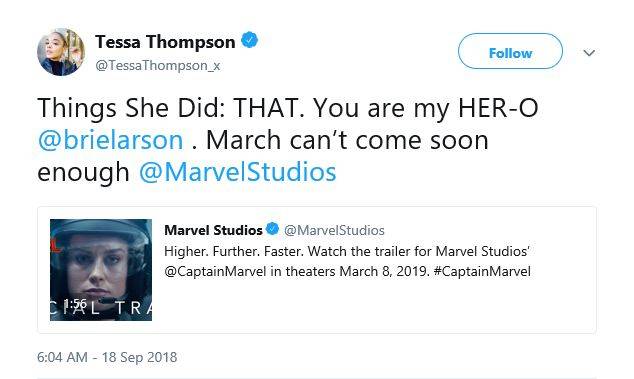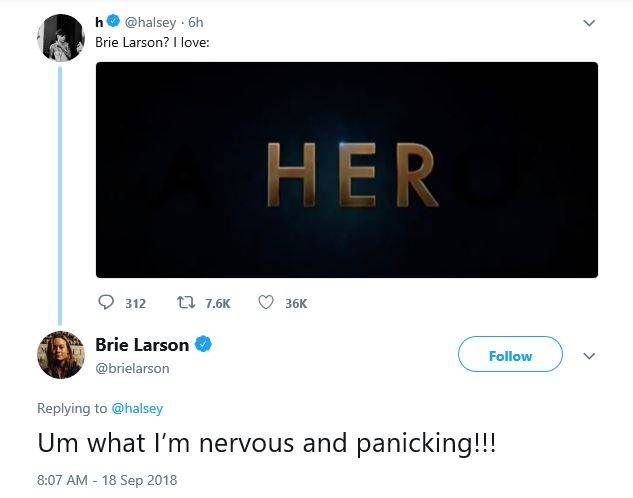 One of the best parts of the MCU at this point is seeing how the "class" of stars interact behind the scenes. Whether it's seeing MCU actors meet up for random real-life photo ops; competitively engaged in charity events or campaigns, or just trolling the hell out of one another over social media. Thanks to ten years and nearly two dozen film productions the MCU cast has (mostly) become a tight-knit crew, which makes the fun of the films carry over to everyday life.
As for Captain Marvel, Marvel fans seem to be loving Brie Larson in the role, and generally loving the story that the first trailer teases. We've gotten to see cool things like the digitally de-aged versions of Samuel L. Jackson and Clark Gregg as '90s-era Nick Fury and Agent Coulson (respectively), plus the first hints at the larger scope of the intergalactic war between the Kree and Skrull empires – and how Jude Law's may play a pivotal part in that conflict.